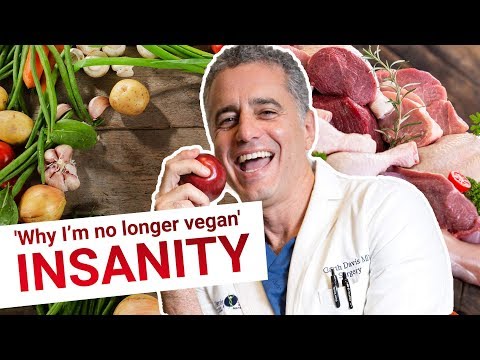 'Why I'm no longer vegan' INSANITY – Dr. Davis
Why I am not longer vegan videos are popping up everywhere on Youtube these days. Dr. Davis weighs in on them.
Vegan Doctor Garth Davis, MD, is the medical director of the Davis Clinic at the Methodist Hospital in Houston, Texas, and starred on the hit TLC show Big Medicine. He is certified by the American Board of Surgery and is a Fellow of the American College of Surgeons and a Fellow of the American Society for Metabolic and Bariatric Surgery. Dr. Davis also competes in marathons and Ironman triathlons and is the author of Proteinaholic: How Our Obsession With Meat Is Killing Us and What We Can Do About It.
Find out more about Dr. Garth's book here http://proteinaholic.com/
And follow him on Youtube here https://www.youtube.com/user/gpdtx
Original video here https://www.youtube.com/watch?v=fqapZarTTb8
—
★ GET ACCESS TO THE BEST STUFF: https://plantbasednews.org/insiders
★ SUPPORT OUR WORK BY MAKING A CONTRIBUTION: https://www.plantbasednews.org/support
★ GET OUR FREE MEAL INSPIRATION GUIDE: http://bit.ly/pbnmealguide
★GET OUT VEGAN PREGNANCY GUIDE: http://theveganpregnancyguide.com/
★ GET OUR VEGAN PARENTING GUIDE: http://raisingachildvegan.com/
★ HELP TRANSLATE OUR VIDEOS: http://bit.ly/translatePBN
★ SIGN UP TO RECEIVE OUR WEEKLY HEADLINES IN YOUR INBOX: http://www.plantbasednews.org/signup
★ GOT A NEWS STORY WE SHOULD KNOW ABOUT? Please email press@plantbasednews.org or leave a message on our hotline UK landline: +44 207 0960 175, US landline: +1 818 963 5411
★ CHECK OUT OUR WEBSITE: http://www.plantbasednews.org/
SOCIAL MEDIA
★ TWITTER: https://www.twitter.com/plantbasednews
★ FACEBOOK: https://www.facebook.com/plantbasednews
★ YOUTUBE: https://www.youtube.com/plantbasednews
★ INSTAGRAM: https://www.instagram.com/plantbasednews
LEARN ABOUT VEGANISM
★ Cowspiracy ➞ https://youtu.be/nV04zyfLyN4
★ NutritionFacts.Org ➞ https://goo.gl/BdNbiU
★ Veganuary ➞ http://www.veganuary.com/