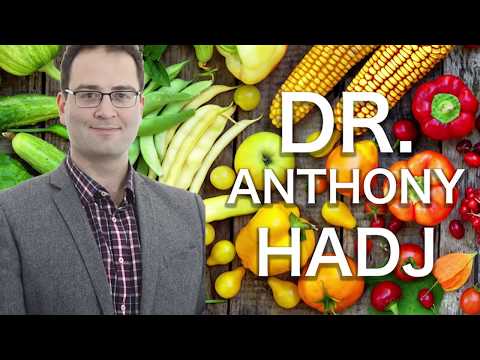 WHY DOCTORS DON'T RECOMMEND VEGANISM #6: Dr. Anthony Hadj
WIN TO STUDY A PLANT BASED NUTRITION COURSE – http://eepurl.com/dipowH
FULL DR. ANTHONY HADJ TALK HERE: https://vimeo.com/ondemand/dranthonyhaj
Check out Anthony Hadj's website here: www.livinglongertoday.com
And his social media here: @drantsplants – https://www.instagram.com/drantsplants/
We were very excited to have Dr. Anthony Hadj – a plant-based GP from Melbourne, Australia – talk to us about the benefits of a vegan diet.
In this video, Dr. Hadj speaks about the impact that modern Western diets are having on people, and why these diets are so harmful (leading to disease states such as Type 2 diabetes, obesity, high blood pressure, and heart disease among others).
He also focuses on the power of nutrition and specifically, how using a whole foods vegan diet can not only prevent, but actually reverse, many of these conditions.
He details some of his clinical experience in this area with his own patients.
—
★ SUPPORT OUR WORK BY MAKING A DONATION: https://www.plantbasednews.org/support
★ HELP TRANSLATE OUR VIDEOS: http://bit.ly/translatePBN
★ SIGN UP TO RECEIVE OUR WEEKLY HEADLINES IN YOUR INBOX: http://www.plantbasednews.org/signup
★ GOT A NEWS STORY WE SHOULD KNOW ABOUT? Please email press@plantbasednews.org or leave a message on our hotline UK landline: +44 207 0960 175, US landline: +1 818 963 5411
★ CHECK OUT OUR WEBSITE: http://www.plantbasednews.org/
SOCIAL MEDIA
★ TWITTER: https://www.twitter.com/plantbasednews
★ FACEBOOK: https://www.facebook.com/plantbasednews
★ YOUTUBE: https://www.youtube.com/plantbasednews
★ INSTAGRAM: https://www.instagram.com/plantbasednews
LEARN ABOUT VEGANISM
★ Cowspiracy ➞ https://youtu.be/nV04zyfLyN4
★ NutritionFacts.Org ➞ https://goo.gl/BdNbiU
★ Veganuary ➞ http://www.veganuary.com/