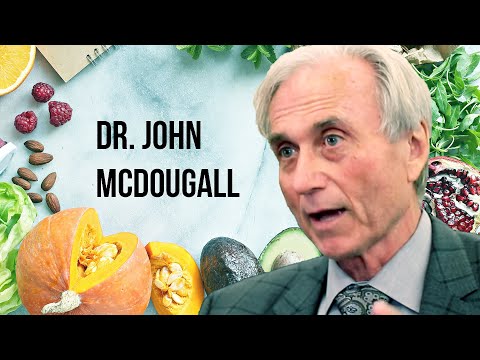 WHY DOCTORS DON'T RECOMMEND VEGANISM #3: Dr John McDougall
Huge thanks to John McDougall, M.D., for doing the interview. Dr McDougall is a physician and nutrition expert who teaches better health, including weight-loss through a low-fat, no oil, plant-based starch-based diet. A pioneer in his field, Dr McDougall has been studying, writing and speaking out about the effects of nutrition on disease for over 40 years.
Website: https://www.drmcdougall.com/
Youtube: https://www.youtube.com/user/drmcdougallmd
Huge thanks also to VegSource (https://www.youtube.com/user/headveg) for letting me interview Dr McDougall. It was filmed at their annual Healthy Lifestyle Expo event in LA in October 2016.
Click here to download the complete set of talks / panels from the event: http://store.vegsource.com/
************
PLANT BASED NEWS LINKS
WEBSITE: http://www.plantbasednews.org/
SIGN UP FOR THE NEWSLETTER: http://www.plantbasednews.org/signup
Support my work on Patreon:
https://www.patreon.com/plantbasednews
• FACEBOOK: PLANT BASED NEWS https://www.facebook.com/plantbasednews
• YOUTUBE: PLANT BASED NEWShttps://www.youtube.com/plantbasednews
• TWITTER: @plantbasednews https://twitter.com/plantbasednews
• INSTAGRAM: @plantbasednews https://instagram.com/plantbasednews
*************