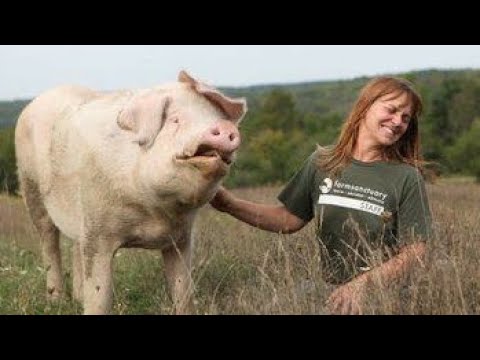 The VEGAN POWERHOUSE of Farm Sanctuary | Susie Coston
Farm Sanctuary is an American vegan animal protection organization, founded in 1986 as an advocate for farmed animals. It was America's first shelter for farmed animals. It promotes laws and policies that support animal welfare, animal protection, and veganism through rescue, education, and advocacy.
The Unbound Project presents Farm Sanctuary's Susie Coston on compassion for all animals. Directed by Kelly Guerin Find out more about The Unbound Project https://unboundproject.org
Find out more about Farm Sanctuary
https://www.farmsanctuary.org/
Unbound is a multimedia and book project by acclaimed photojournalist Jo-Anne McArthur (We Animals, The Ghosts in Our Machine) and Dr. Keri Cronin (Department of Visual Arts, Brock University). Their goal is to recognize and celebrate women at the forefront of animal advocacy, in both a contemporary and historical context. The project will evolve over a few years, as they meet, photograph and interview inspiring, hard-working women around the globe. They invite you to join them on their journey as they get to know these incredible women and hear about their challenges, the dangers they've faced, their triumphs, their sacrifices, their joys.
—
★ GET ACCESS TO THE BEST STUFF: https://plantbasednews.org/insiders
★ SUPPORT OUR WORK BY MAKING A CONTRIBUTION: https://www.plantbasednews.org/support
★ GET OUR FREE MEAL INSPIRATION GUIDE: http://bit.ly/pbnmealguide
★GET OUT VEGAN PREGNANCY GUIDE: http://theveganpregnancyguide.com/
★ GET OUR VEGAN PARENTING GUIDE: http://raisingachildvegan.com/
★ HELP TRANSLATE OUR VIDEOS: http://bit.ly/translatePBN
★ SIGN UP TO RECEIVE OUR WEEKLY HEADLINES IN YOUR INBOX: http://www.plantbasednews.org/signup
★ GOT A NEWS STORY WE SHOULD KNOW ABOUT? Please email press@plantbasednews.org or leave a message on our hotline UK landline: +44 207 0960 175, US landline: +1 818 963 5411
★ CHECK OUT OUR WEBSITE: http://www.plantbasednews.org/
SOCIAL MEDIA
★ TWITTER: https://www.twitter.com/plantbasednews
★ FACEBOOK: https://www.facebook.com/plantbasednews
★ YOUTUBE: https://www.youtube.com/plantbasednews
★ INSTAGRAM: https://www.instagram.com/plantbasednews
LEARN ABOUT VEGANISM
★ Cowspiracy ➞ https://youtu.be/nV04zyfLyN4
★ NutritionFacts.Org ➞ https://goo.gl/BdNbiU
★ Veganuary ➞ http://www.veganuary.com/