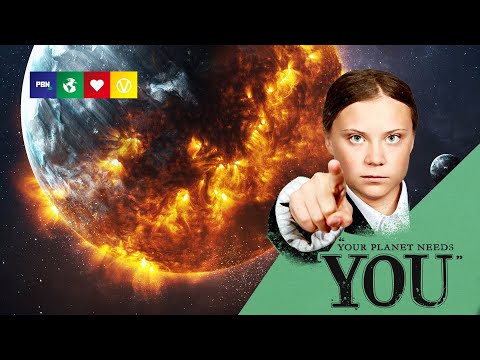 The SIXTH Mass Extinction: Who or what is causing it?
A short environmental video produced by PBN's Robbie Lockie.
We are in the midst of an environmental emergency. Our forests are burning, our air is being polluted, our oceans are being poisoned, our soil degraded, and our wildlife wiped out. Never before in human history have we seen ecological devastation on this scale. If we don't act soon there won't be a future to fight for.
Animal farming is at the heart of the climate crisis. The impact of eating animal products reaches far beyond the cow that you're eating. It is contributing to the world's sixth mass extinction and hurtling us towards a catastrophic temperature rise of up to 5°C by the end of this century.
Time is running out. Runaway climate change and habitat destruction have become THE most profound challenges of our age. We still have time left before we pass the point of no-return if we ACT NOW.
Going vegan is the single biggest thing you can do to cut down your environmental impact. Start your journey today.
#VeganNow #HowDareYou
—
★ CHECK OUT PBN INSIDERS FOR THE BEST STUFF: https://plantbasednews.org/insiders
★ SUPPORT OUR WORK BY MAKING A CONTRIBUTION: https://www.plantbasednews.org/support
★ GET OUR FREE MODEL MEAL INSPIRATION GUIDE: http://bit.ly/pbnmealguide
★ CHECK OUT OUR VEGAN PREGNANCY GUIDE: http://theveganpregnancyguide.com/
★ CHECK OUT OUR VEGAN PARENTING GUIDE: http://raisingachildvegan.com/
★ 50% OFF OVER 100 WHOLE-FOOD PLANT-BASED RECIPES: from the biggest names in the plant based world – use discount code PBN at checkout: https://bit.ly/2O1Iz0N
★ HELP TRANSLATE OUR VIDEOS: http://bit.ly/translatePBN
★ SIGN UP TO RECEIVE OUR WEEKLY HEADLINES IN YOUR INBOX: http://www.plantbasednews.org/signup
★ GOT A NEWS STORY WE SHOULD KNOW ABOUT? Please email press@plantbasednews.org or leave a message on our hotline UK landline: +44 207 0960 175, US landline: +1 818 963 5411
WEBSITE
★ http://www.plantbasednews.org/
SOCIAL MEDIA
★ TWITTER: https://www.twitter.com/plantbasednews
★ FACEBOOK: https://www.facebook.com/plantbasednews
★ YOUTUBE: https://www.youtube.com/plantbasednews
★ INSTAGRAM: https://www.instagram.com/plantbasednews
LEARN ABOUT VEGANISM
★ Cowspiracy ➞ https://youtu.be/nV04zyfLyN4
★ NutritionFacts.Org ➞ https://goo.gl/BdNbiU
★ Veganuary ➞ http://www.veganuary.com/
—
★ CHECK OUT PBN INSIDERS FOR THE BEST STUFF: https://plantbasednews.org/insiders
★ SUPPORT OUR WORK BY MAKING A CONTRIBUTION: https://www.plantbasednews.org/support
★ GET OUR FREE MODEL MEAL INSPIRATION GUIDE: http://bit.ly/pbnmealguide
★ CHECK OUT OUR VEGAN PREGNANCY GUIDE: http://theveganpregnancyguide.com/
★ CHECK OUT OUR VEGAN PARENTING GUIDE: http://raisingachildvegan.com/
★ 50% OFF OVER 100 WHOLE-FOOD PLANT-BASED RECIPES: from the biggest names in the plant based world – use discount code PBN at checkout: https://bit.ly/2O1Iz0N
★ HELP TRANSLATE OUR VIDEOS: http://bit.ly/translatePBN
★ SIGN UP TO RECEIVE OUR WEEKLY HEADLINES IN YOUR INBOX: http://www.plantbasednews.org/signup
★ GOT A NEWS STORY WE SHOULD KNOW ABOUT? Please email press@plantbasednews.org or leave a message on our hotline UK landline: +44 207 0960 175, US landline: +1 818 963 5411
WEBSITE
★ http://www.plantbasednews.org/
SOCIAL MEDIA
★ TWITTER: https://www.twitter.com/plantbasednews
★ FACEBOOK: https://www.facebook.com/plantbasednews
★ YOUTUBE: https://www.youtube.com/plantbasednews
★ INSTAGRAM: https://www.instagram.com/plantbasednews
LEARN ABOUT VEGANISM
★ Cowspiracy ➞ https://youtu.be/nV04zyfLyN4
★ NutritionFacts.Org ➞ https://goo.gl/BdNbiU
★ Veganuary ➞ http://www.veganuary.com/