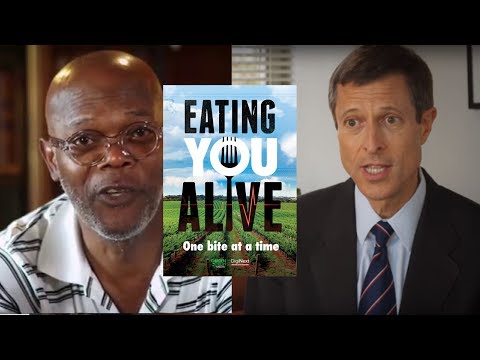 Is Our FOOD KILLING Us? What Is On YOUR Plate? Could a Whole Food Plant Based Diet Be the Answer?
Can a whole food plant based diet turn around the tidal wave of disease the world is currently experiencing?
Is our food killing us? Robbie interviewed the director and producer of Eating You Alive a new film about vegan food, whole food plant based eating, human health, disease and our diet.
Diabetes, Heart Disease, Human Health
–
Half of all adults in the U.S. struggle with chronic health conditions including cancer, heart disease, stroke, diabetes, obesity, hypertension, Alzheimer's, arthritis and erectile dysfunction.
Despite countless dollars spent on medical research, new drugs and innovative technology to improve our health, more Americans are disabled and dying from chronic disease than ever before.
Featuring leading medical experts and researchers, Eating You Alive takes a scientific look at the reasons we're so sick, who's responsible for feeding us the wrong information and how we can use whole-food, plant-based nutrition to take control of our health—one bite at a time.
Find out more – https://www.eatingyoualive.com/
• SIGN UP TO RECEIVE OUR WEEKLY HEADLINES IN YOUR INBOX: http://www.plantbasednews.org/signup
• GOT A NEWS STORY WE SHOULD KNOW ABOUT? Please email hello@plantbasednews.org or leave a message on our hotline (UK landline: +44 207 0960 175, US landline: +1 818 963 5411)
• CHECK OUT OUR WEBSITE: http://www.plantbasednews.org/
• SUPPORT OUR WORK BY MAKING A DONATION: https://actionsprout.io/0B2DF1/initial
• SUPPORT OUR WORK ON PATREON:
https://www.patreon.com/plantbasednews
• FACEBOOK: PLANT BASED NEWS https://www.facebook.com/plantbasednews
• YOUTUBE: PLANT BASED NEWS https://www.youtube.com/plantbasednews
• TWITTER (@plantbasednews)
https://twitter.com/plantbasednews
• INSTAGRAM: @plantbasednews https://instagram.com/plantbasednews