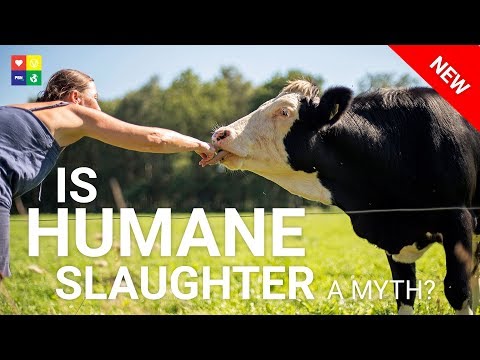 EXPOSING the HUMANE HOAX – Does humane slaughter really exist?
Does humane slaughter really exist? PBN's Robbie Lockie went to the Animal Rights Conference 2018 and spoke to some of the leading minds and voices in the Animal Rights Movement. To ask this simple question. "How do we debunk the humane hoax?"
— VIDEO CHAPTERS —
The people featured in this interview where, click the timecodes to skip ahead or back:
Miyoko Schinner (Founder of Miyoko's Kitchen) 2:45
Jacy Reese (Research Director Sentience Institute) 3:39
Daniella Monet (Actress & Entrepreneur) 4:00
Kathy Stevens (Founder of Catskill Animal Sanctuary) 4:39
Gene Baur (Co-founder and President of Farm Sanctuary) 5:55
Dr Melanie Joy (Founder of Beyond Carnism) 7:06
John Oberg (Director of New Media of The Humane League) 7:46
Jane Velez-Mitchell (Founder of Jane Unchained) 8:02
Anita Kranjc (Co-founder The Save Movement) 9:00
Genesis Butler ( Founder of A Vegan Child's Journey) 10:03
–
Edited by Andrew Gough
Produced, Directed & Presented by Robbie Lockie
Huge thanks to Ally Hinton from FARM for your help and support.
Huge thanks to FARM and A Well Fed World for sponsoring this video series.
Find out more about FARM — http://www.farmusa.org
Find out more about A Well Fed World – https://awfw.org/
—
★ GET ACCESS– TO THE BEST STUFF (EXCLUSIVE INTERVIEWS & BEHIND THE SCENES MOMENTS): https://plantbasednews.org/insiders
★ SUPPORT OUR WORK BY MAKING A CONTRIBUTION: https://www.plantbasednews.org/support
★ GET OUR FREE MEAL INSPIRATION GUIDE: http://bit.ly/pbnmealguide
★ HELP TRANSLATE OUR VIDEOS: http://bit.ly/translatePBN
★ SIGN UP TO RECEIVE OUR WEEKLY HEADLINES IN YOUR INBOX: http://www.plantbasednews.org/signup
★ GOT A NEWS STORY WE SHOULD KNOW ABOUT? Please email press@plantbasednews.org or leave a message on our hotline UK landline: +44 207 0960 175, US landline: +1 818 963 5411
★ CHECK OUT OUR WEBSITE: http://www.plantbasednews.org/
SOCIAL MEDIA
★ TWITTER: https://www.twitter.com/plantbasednews
★ FACEBOOK: https://www.facebook.com/plantbasednews
★ YOUTUBE: https://www.youtube.com/plantbasednews
★ INSTAGRAM: https://www.instagram.com/plantbasednews
LEARN ABOUT VEGANISM
★ Cowspiracy ➞ https://youtu.be/nV04zyfLyN4
★ NutritionFacts.Org ➞ https://goo.gl/BdNbiU
★ Veganuary ➞ http://www.veganuary.com/