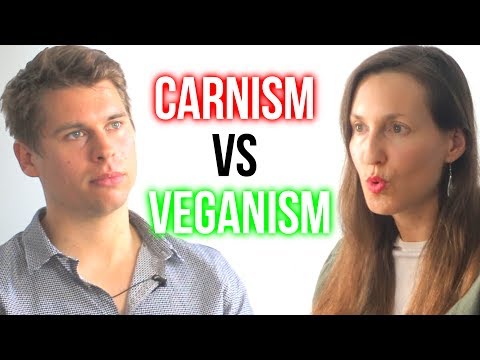 Dr. Melanie Joy : Carnism vs Veganism | A PBN Interview
Carnism Vs Veganism: Melanie Joy, Ph.D., Ed.M., is a Harvard-educated psychologist, celebrated speaker, organizational consultant, and author of the award-winning book Why We Love Dogs, Eat Pigs, and Wear Cows. Dr. Joy is the eighth recipient of the Institute of Jainology's Ahimsa Award, which was previously awarded to Nelson Mandela and the Dalai Lama.
Her work has been featured by numerous national and international media outlets, including the BBC, ABC Australia, NPR, and the New York Times. Dr. Joy has given her acclaimed carnism presentation on five continents, and the video of her recent TEDx talk on carnism is in the top 1% of the most-viewed TEDx talks of all time. She is also the author of Strategic Action for Animals. Dr. Joy currently lives in Berlin, Germany, with her husband and co-CEO of Karnismus erkennen, Sebastian Joy.
Buy Melanie's new book here: Http://bit.ly/PBN_beyondbeliefs
Subscribe for more interviews like this. Check out Melanie Joy's website and talks on veganism (and carnism):
Carnism.org: https://www.carnism.org/
Towards rational authentic food choices TEDx talk: https://www.youtube.com/watch?v=o0VrZPBskpg
The secret reason we eat meat: https://www.youtube.com/watch?v=ao2GL3NAWQU
Melanie Joy's book is called: Why We Love Dogs, Eat Pigs, and Wear Cows: An Introduction to Carnism
Her new book is being released soon, called Beyond Beliefs
Thanks to Mario Burbach for help with technical support and cameras. See his website here: http://www.spurgo.de/blog/
• SIGN UP TO RECEIVE OUR WEEKLY HEADLINES IN YOUR INBOX: http://www.plantbasednews.org/signup
• GOT A NEWS STORY WE SHOULD KNOW ABOUT? Please email hello@plantbasednews.org or leave a message on our hotline (UK landline: +44 207 0960 175, US landline: +1 818 963 5411)
• LISTEN ON SOUNDCLOUD – https://soundcloud.com/plantbasednews
• CHECK OUT OUR WEBSITE: http://www.plantbasednews.org/
• SUPPORT OUR WORK BY MAKING A DONATION: https://actionsprout.io/0B2DF1/initial
• SUPPORT OUR WORK ON PATREON:
https://www.patreon.com/plantbasednews
• FACEBOOK: PLANT BASED NEWS https://www.facebook.com/plantbasednews
• YOUTUBE: PLANT BASED NEWS https://www.youtube.com/plantbasednews
• TWITTER (@plantbasednews)
https://twitter.com/plantbasednews
• INSTAGRAM: @plantbasednews https://instagram.com/plantbasednews