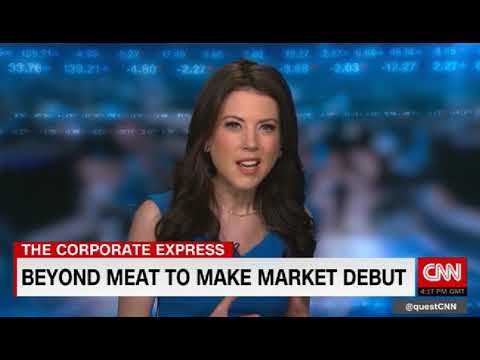 BREAKING: Shares in Vegan Company Beyond Meat SIZZLE
Beyond Meat, the company that makes meatless alternatives to beef, pork and poultry, began trading at $46 a share on Thursday, an 84% increase over its IPO price of $25.
Last week, the company said it would price its shares between $19 and $21. The increase shows just how hot demand for plant-based protein is right now, as more consumers are turning to meat alternatives to keep healthier diets and reduce their impact on the environment.
Just hours after it started trading, the stock had soared to nearly $73. It closed at $65.75 per share, up 163% from its IPO price.
—
★ CHECK OUT PBN INSIDERS FOR THE BEST STUFF: https://plantbasednews.org/insiders
★ SUPPORT OUR WORK BY MAKING A CONTRIBUTION: https://www.plantbasednews.org/support
★ GET OUR FREE MODEL MEAL INSPIRATION GUIDE: http://bit.ly/pbnmealguide
★ CHECK OUT OUR VEGAN PREGNANCY GUIDE: http://theveganpregnancyguide.com/
★ CHECK OUT OUR VEGAN PARENTING GUIDE: http://raisingachildvegan.com/
★ 50% OFF OVER 100 WHOLE-FOOD PLANT-BASED RECIPES: from the biggest names in the plant based world – use discount code PBN at checkout: https://bit.ly/2O1Iz0N
★ HELP TRANSLATE OUR VIDEOS: http://bit.ly/translatePBN
★ SIGN UP TO RECEIVE OUR WEEKLY HEADLINES IN YOUR INBOX: http://www.plantbasednews.org/signup
★ GOT A NEWS STORY WE SHOULD KNOW ABOUT? Please email press@plantbasednews.org or leave a message on our hotline UK landline: +44 207 0960 175, US landline: +1 818 963 5411
WEBSITE
★ http://www.plantbasednews.org/
SOCIAL MEDIA
★ TWITTER: https://www.twitter.com/plantbasednews
★ FACEBOOK: https://www.facebook.com/plantbasednews
★ YOUTUBE: https://www.youtube.com/plantbasednews
★ INSTAGRAM: https://www.instagram.com/plantbasednews
LEARN ABOUT VEGANISM
★ Cowspiracy ➞ https://youtu.be/nV04zyfLyN4
★ NutritionFacts.Org ➞ https://goo.gl/BdNbiU
★ Veganuary ➞ http://www.veganuary.com/