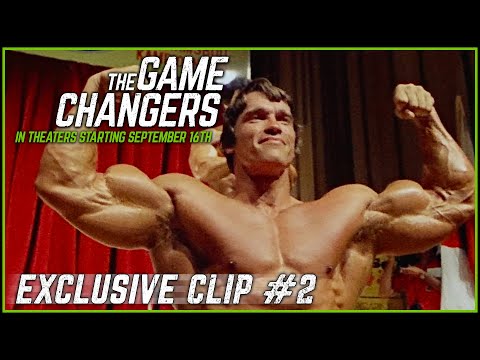 Exclusive Clip #2 from The Game Changers
Arnold Schwarzenegger used to be a BIG meat-eater, but in this exclusive NEW clip from Entertainment Tonight Arnold discusses why he is becoming a BIG plant-eater.
Be a part of our Sep 16th ONE NIGHT ONLY global event – featuring a special after show — "hosted" by master storyteller James Cameron — which includes deleted scenes, extended interviews and surprise appearances! Seating is limited and tickets are selling out quickly! Goto gamechangersmovie.com and gets yours NOW!
US + CANADA + UK + IRELAND + GERMANY + THE NETHERLANDS + UKRAINE + AUSTRALIA + NEW ZEALAND – tix on sale now.
TICKETS ON SALE SOON IN: Austria, Switzerland, Belgium, Luxembourg, Sweden, Norway, Denmark, Finland & more – sign up for our mailing list so you don't miss ticket announcements for your country! Link in bio!
—
For more news, follow us on:
Main Site https//www.gamechangersmovie.com
Facebook: https://www.facebook.com/gamechangersmovie/
Instagram: https://www.instagram.com/gamechangersmovie/
Twitter: https://www.twitter.com/gcmovie
#TheGameChangers #ChangeYourGame